Privat, grosser und Sunny 2BR mit Waschmaschine und Trockner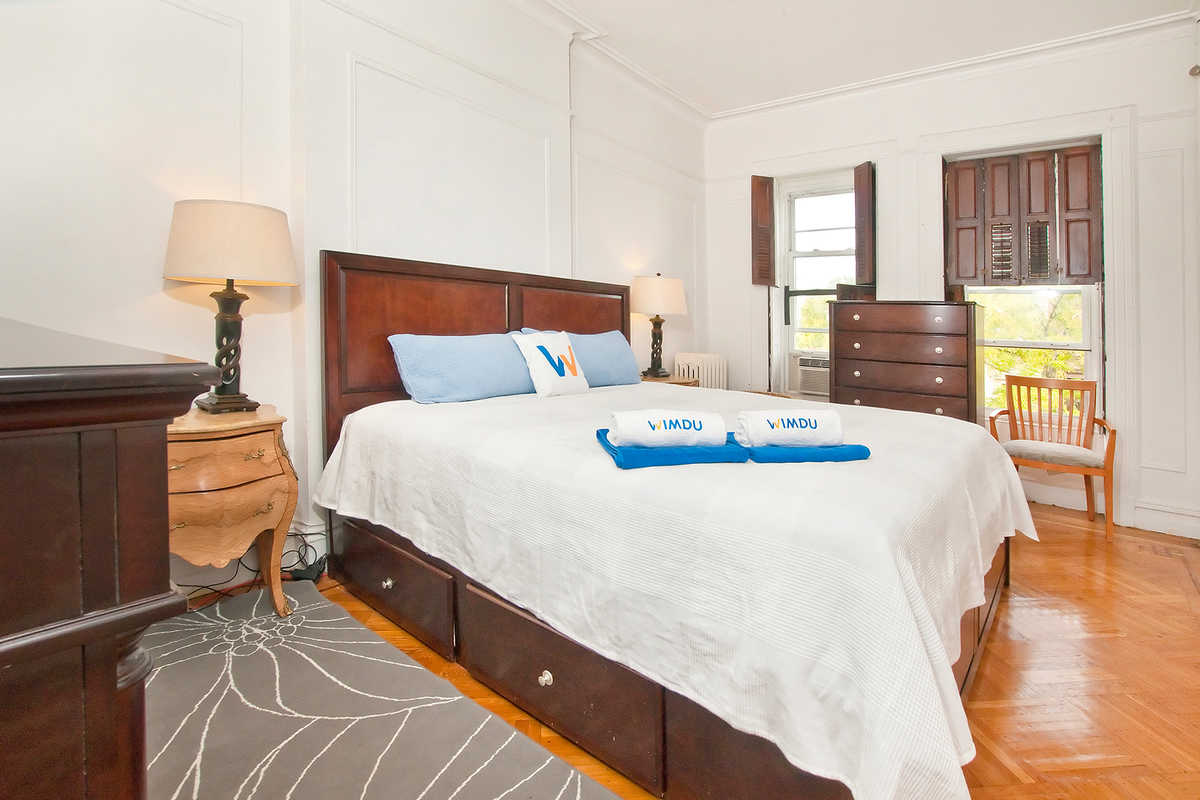 Anzahl von Gästen

4

Schlafzimmer

2

Badezimmer

1

Größe

750 ft²

Stockwerk
Klimaanlage
Waschmaschine / Trockner
TV
Parkplatz vorhanden
Internet/WLAN
Handtücher
| | |
| --- | --- |
| Adresse | Jefferson Avenue, 11216 Brooklyn, Vereinigte Staaten |
| Unterkunftstyp | Ferienwohnung |
| Angebots-ID | 32XC2BRY |
Renée
Schreiben Sie Renée hier
| | |
| --- | --- |
| Annahmequote | 67% |
| Antwortzeit | In wenigen Stunden |
| Kalender aktualisiert | Vor 2 Wochen |
Beschreibung
Von Wimdu verifiziert
Übersetzt von Google Translate. Beschreibung im Original zeigen. Did you know that NYC is ranked the most expensive vacation destination in the country? When you consider the cost of a tiny 4-star hotel room, a core food item, an alcoholic drink and a taxi ride, the cost really add up!

We can help you off-set some of those costs with our fully furnished apartments for daily, weekly or monthly accommodations on one of the prettiest tree-lined blocks in Bedford Stuyvesant, conveniently located approximately 10 minutes from the express A subway train at Nostrand Avenue that takes you to downtown Manhattan in approximately 15 minutes.

An ideal option for business travelers, academics and anyone who doesn't want to pay $300+ a night for a tiny room! Apartments are set in a pre-war Brooklyn brownstone in a vibrant working-class neighborhood.

The apartments are located in a 4-story walk-up, 3-family Brooklyn brownstone. They are fully furnished with loads of amenities. Unit #2 is on the 3rd floor and features southern exposure, windowed air conditioner and ceiling fan in each room, a queen size bed + twin size cot, linens, towels, cable HD TV, ethernet or wireless high-speed cable internet, full kitchen with granite countertops and washer & dryer unit, renovated bathroom with brand new pressure-assist toilet, marble sink and skylight, ample closet space, living area w/small dining area, and work desk in the bedroom.

There is parking available on the street. Please click on the Street View link to see the parking layout. There are alternate side parking rules for street cleaning. Street signs are clearly posted with the day and time period that you can't park. If you must move your car for you are allowed to double park on the alternate side of the street, but you must remember to move your car back or you will get a ticket.

Again! This is not a share or room rental. You are renting a fully-furnished 1 Bedroom Apartment that is in a convenient location, large, and loaded with quality amenities for an unbeatable price.

House Manual with transportation, restaurant and much more information will be provided to you when you book the apartment. Plus you can click on the Guidebook for neighborhood information.
Hausregeln
•CHECK-IN IS AT 3:00 PM | CHECK-OUT IS AT 12:00 PM

Just be mindful of the noise, there are other's living in the building, staying right below you, and it's not very soundproof. :-) Lock up when you leave, and please clean up after yourself. And, please, please recycle appropriately. That's all! Oh, and don't leave food out for the critters! They won't eat the poison if you do -- the entire building is exterminated the 1st Saturday of every month.

Hey, help me promote Doma Real Estate apartments! Check-in @ FOURSQUARE.COM. Just search for Doma Real Estate, and Follow me on Twitter @DomaBklynRE!

And if you enjoyed your stay at Doma Real Estate apartments, please Like me on Facebook, and Check-In on Facebook as well!!!

APARTMENT ADDRESS:
Neighborhood Name: Bedford-Stuyvesant
328 Jefferson Avenue
Apartment #3
Brooklyn, New York 11216
between Marcy and Tompkins Avenues (cross streets)
(718) 207-2098 (Renee's iPhone)

Once you get to our building, go up the front stairs and ring the bell labeled Maslikhov. If I don't answer, call me on my iPhone.

HOUSEKEEPING:
You don't need to clean the apartment or the linens but you do need to clean up after yourself. If you use the dishes that are provided, clean them. If you can figure out that we provide a washer & dryer for you to use, but are not washing your clothes, you should have no problem with knowing how to clean up after yourself.

YOU MUST RECYCLE: I will leave negative comments about this.

IF YOU ARE HAVING MAIL DELIVERED HERE DURING YOUR STAY PLEASE MAKE SURE YOU INCLUDE "TO THE ATTENTION OF DOMA REAL ESTATE." OTHERWISE THE MAIL WILL NOT BE DELIVERED.

Wi-Fi:
Network Name: DomaRealEstateGuest | Password: Liv4Doma1
Yes, there is wi-fi! It's not super fast, but it does get the job done.

WIRELESS PRINTER:
Here are the specs for the Canon Pixma MX454 Printer:

Other FeaturesAirPrint3, Wireless Printing1, 2-Line LCD, Dual Color Gamut Processing Technology, Full HD Movie Print9, Fully Integrated ADF, Mobile Device Printing2, Print Your Days18, Quick Start

OS CompatibilityWindows® 8, Windows RT, Windows 7, Windows 7 SP1, Windows Vista SP1, Vista SP2, Windows XP SP3 32-bit
Mac OSX 10.6.8 or later

Standard InterfaceWireless LAN (IEEE 802.11b/g/n)1
USB 2.0 Hi-Speed
Bluetooth® v2.0 (Optional)17

Please note, you will need to be able to know how to log into my network and select the printer. Your computer may need to install the printer driver if your OS is compatible with the printer. You will need to know how to do this. I can't provide tech support.

My 'Hood:

Groceries: Super Food Town
I shop at Super Food Town for most of my groceries. I like the fresh baked breads, bake on-site! The olive cart, the fresh produce. However, when the produce is not looking so great here, I go across Fulton Street to the small produce store. They always have great looking produce! I also like the selection of imported beers at the grocery store. Other than that, it's pretty much your standard grocery fare.

To get there, just exit the building, turn right, walk to Tompkins Avenue, turn right. Walk to Fulton Street. Look to the right, you will see a large brick building with a sign that reads, Super Food Town.

There are also small stores where I purchase milk or beer, when I don't want to walk to Super Food Town. One is located at the corner of Jefferson Avenue and Tompkins Avenue, and one is located at the corner of Tompkins Avenue and Hancock Avenue. I usually walk a little further for the one @ Tompkins and Hancock because it's cleaner. :-)

Coffee: Common Grounds, Daliah's Cafe, Paris Dakar
I make a great cappaccino in my kitchen downstairs on my Miele coffee system. My only complaint is it doesn't get the espresso hot enough on it's own. You have to add steamed milk for the drink to be super hot. -_-
However, when I must grab a cup on the go, I either go to Commond Grounds, which is around the corner at 376 Tompkins Avenue, Dahlia's cafe, which is on the way to the subway station at 449 Nostrand Avenue , or Le Paris Daka at 518 Nostrand Avenue, which is across the street, sort of, from Dahlia's.

For Comon Grounds, exit the building, turn right and walk to Tompkins Avenue. Turn left, walk towards Putnam Avenue. Common Grounds is on Tompkins Avenue between Jefferson Avenue and Putnam Avenue, on the left side of the street.

For Daliah's Cafe, exit the building, turn left and walk to Nostrand Avenue. Turn left, walk towards Fulton Street. Dahlia's Cafe is on Nostrand Avenue on the left side of the street.

For Paris Dakkar, it is also on Nostrand Avenue, across the street and one block ahead of Daliah's Cafe.

Wine:
This is important because I don't go a day without it -- WINE!

There is a cute little wine shop around the corner on Putnam Avenue called Bed-Vyne. The address is 370 Tompkins Avenue, but the entrance is on Putnam Avenue -- ah ha!

Just turn right when you exit the building, walk to Tompkins Avenue, turn left. Walk to Putnam, cross Putnam Avenue, turn left and the store is on the right side a few feet up. You have to look for it! It's tiny, but cute and close!

If I'm getting off the subway, I'll walk to Breukelen Cellars at 504 Nostrand Avenue. Just cross Fulton Street and walk north on Nostrand Avenue, when you exit the subway. It's near the corner of Halsey Street on the left side of the street. Then you can just head further North to Jefferson Avenue, make a right, and you're on your way home. With a nice bottle of wine!!! ;-)

Food:
This is a bit tough because I don't eat out often, but when I must I am known to call in an order and go pick it up at The Hot House, which is around the corner at 415 Tompkins Avenue at the corner of Hancock Street. You can dine there, but it's tiny!

When I'm in the mood I go to David's Brisket House & Deli at 533 Nostrand Avenue. They make a killer corn beef sandwich on rye with mustard. That, with a Hoegaarden or two -- DONE! When you get off the subway, walk South on Nostrand Avenue, it's just one block away. Not much of a detour before you head home, and sooooo worth it.

Abu's Homestyle Bakery makes great cakes, but I love there mini pies! If you're in the mood for something sweet, to to 1184 Fulton Street. Just head west on Fulton Street toward Bedford Avenue. It's on the right side of the street, just passed Bedford Avenue.

Tastee Pattee Bakery is my default. If I'm home and not cooking that evening, I usually picked up dinner from here. If you aren't familiar with Jamaican cooking, I really urge you to try it. It's soooooo good. Just walk east on Fulton Street to go home, stop in here before you reach Marcy Avenue. Make a left on Marcy Avenue, walk to Jefferson Avenue, make a right, and you're almost home!

Okay, no I did not forget! PIZZA! The best in the neighborhood, IMHO, is from Not Just Pizza at 1286 Fulton Street. A few buildings away from the subway stop. I really don't know why this pizza is so good! I think it's the sauce. They don't deliver, but that's okay; it's worth the walk. And if you stop on your way home, even better!

There is plenty of other stuff in the neighborhood, I just thought I'd share with you my day-to-day spots. So get out and explore while you're here!

Thanks again for choosing to stay with me and don't forget to feel free to reach out to me with any questions you may have. I can easily be reached via text or e-mail. You can also try knocking on my door downstairs.

Welcome, again and I hope you enjoy your stay.
Best,

Renée

Download the NYC Way app! A lot of information in one app about all things New York City and it's FREE!!!!!

•TRANSPORTATION:

To and From the Airport --
TAXIWIZ.COM (this site will give you an estimate of the taxi fare): http://nyc.taxiwiz.com/?lang=en

LAGUARDIA (LGA): http://gonyc.about.com/cs/airlinesairports/a/getto_lga.htm

JFK: http://gonyc.about.com/cs/airlinesairports/a/getto_jfk.htm

NEWARK (EWR): http://gonyc.about.com/cs/airlinesairports/a/getto_ewr.htm

Car Services --

Apple Taxi (718) 363-9000 (local Brooklyn taxi service/cheapest)
Eastern Car Service: (718) 783-6465

•SUBWAY:
A and C subway lines at the Nostrand Avenue stop, located at the corner of Nostrand and Fulton Avenues. An approximate 10 minute walk from the apartment.

HOPSTOP.COM is a great site for walking, public transit and driving directions within NYC. For guest taking a taxi from the airport, I would suggest you run and print the directions from the airport to our apartments so you will have an idea of the route the taxi driver should be taking to get here. Please do your due diligence to avoid calling us at 1 and 2AM in the morning for directions.;-)

For more information on subway fares and more, please check out http://www.mta.info/

Bike Rentals --
RIDEBROOKLYNNY.COM
468 Bergen Street, Park Slope Brooklyn, NY 11217

Rental Car --
Zipcar.com --if you need to rent a vehicle while here. Our corporate account is Doma Real Estate. You can create an account under our account if you don't already have one at a discounted rate and save on the application fee.

Street Parking --
Alternate Side Parking Rules
You must move your car to the alternate side on Mondays, Tuesdays, Thursday and Fridays from 9AM until 10:30AM for street cleaning. Please read the street signs which are clearly posted along the street. You are allowed to double park your car on the alternate side if you must move your car, however please remember to move your car back or you will get a ticket and you may be preventing a car from getting out that you are double parked next to.

•Local Parking Garages --
Central Parking (Indoor Garage)
1360 Fulton Street @ Marcy Avenue, Brooklyn, NY 11216
(800) 836-6666

SEAMLESS.COM is a great site for a list of restaurants that delivery to the area. If you have an iPhone, use YELP or UrbanSpoon apps.


•SIGHTSEEING

The New York Pass : http://www.newyorkpass.com/?AID=9707647&PID=3917531

New York City Pass: http://www.citypass.com/new-york
Preise

Preis für zusätzliche Gäste > 3
22 € Extra pro Gast/Nacht
Bedingungen

Höchstanzahl Nächte
1 Monat
Check-in ab
15:00
Check-in vor
Nach Vereinbarung
Check-out vor
12:00
Stornierung
Streng
Bewertungen für diese Unterkunft
Bewertungen für andere Unterkünfte dieses Gastgebers
Juni 2013
Privat, Groß Sunny 1BR w / Waschmaschine und Trockner
Dies ist eine sehr saubere, helle und komfortable Wohnung in einer schönen Umgebung. Renée ist ein toller Gastgeber und ich hatten eine wundervolle Zeit. Danke!
This is a very clean, light and comfortable apartment in a nice neighborhood. Renée is a great host and I had a wonderful time. Thank you!
Juni 2013
Privat, Groß Sunny 1BR w / Waschmaschine und Trockner
Die Wohnung war größer als ich erwartet hatte. Es liegt in einer schönen Wohngegend. Sie können ziemlich billig sein Essen in den Restaurants in der Nähe. Die U-Bahn ist ca. 10 Minuten zu Fuß und Sie sind so in Manhattan. Die Wohnung bietet das geräumige Wohnzimmer und ein separates Schlafzimmer Sie viel nach einem Besuch in Manhattan ruhen. Sie sind nicht durch die Hitze störte, weil Klimaanlagen zur Verfügung stehen. Sie sind nicht leise Klimaanlagen. Die Gastgeberin ist eine warme und freundliche Dame, die sofort haben Sie Ihre Antwort, wenn Sie oder enailt getextet oder Anruf, eine Menge Selbstvertrauen gegeben. . Wir haben unseren Aufenthalt hier in New York.
Het appartement was groter dan ik had verwacht. Het ligt in een leuke buurt. Je kan er vrij goedkoop eten in de eettentjes vlakbij. De metro is ongeveer 10 minuten lopen en je bent zo in Manhatten. Het appartement geeft door de ruime woonkamer en aparte slaapkamer je veel rust na een bezoek aan Manhatten. Je hebt geen last van de warmte doordat er airco's aanwezig zijn. Het zijn geen stille airco's . De gastvrouw is een warme vriendelijke dame, die direct je antwoord geeft zodra je enailt of smst of belt, dat gaf veel vertrouwen. . We hebben hier genoten van ons bezoek aan New York.
Oktober 2012
Wimdus Versprechen
Wir stellen die beste Qualität unserer Unterkünfte & Dienstleistungen sicher
Die Qualität der Unterkunft ist geprüft
Jeder Gastgeber wird telefonisch verifiziert
Sichere Bezahlung mit SSL-Verschlüsselung